The Truffle Hunter Wood Panel Print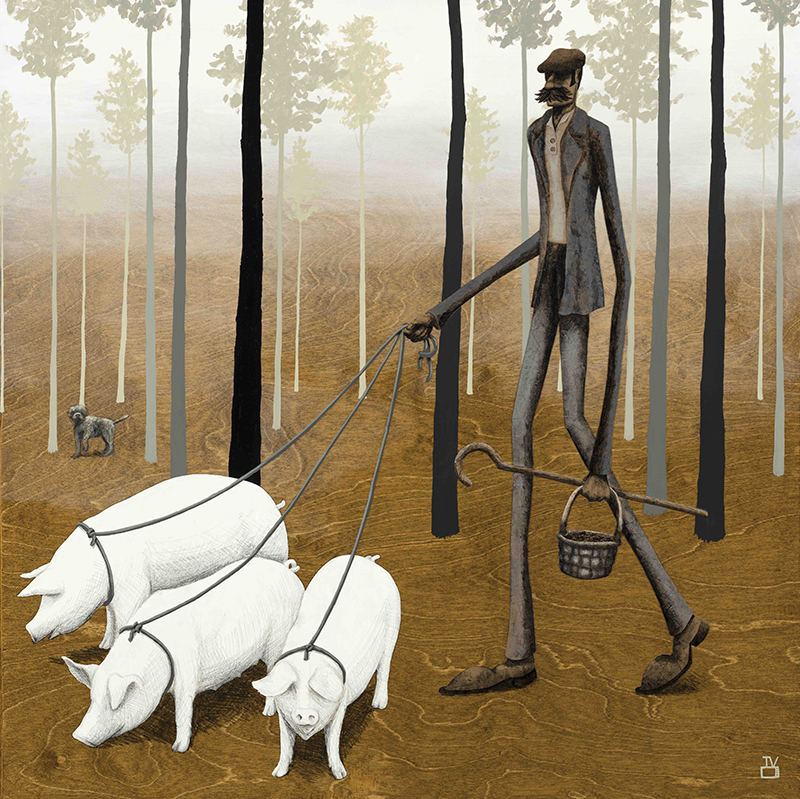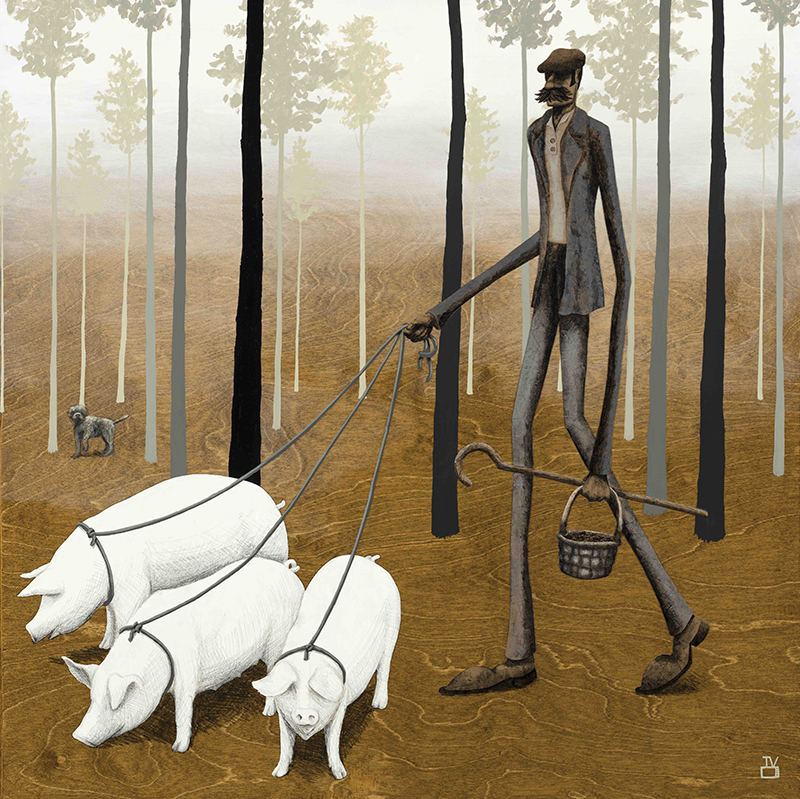 The Truffle Hunter Wood Panel Print
Edition Size: 33
Panel Size: 24x24 inches
Click on images to see full size.
Limited edition giclée print of The Truffle Hunter from The Jobs of Yesteryear Series. Printed on acid-free paper with archival inks and mounted permanently to a custom-made wood box panel. This print is ready to hang and has the look of the original painting for a fraction of the cost. The Jobs of Yesteryear are thought-provoking conversation pieces that will bring an air of history and whimsy to any room.
Truffles are revered as the diamond of the kitchen and they have been hunted for millennia. Their origin was a mystery for some time, with the Ancient Greeks and Romans thinking they came from lightning, thunder, and rain. We now know that they are the fruiting bodies of a subterranean fungus that grows around tree roots. They must be harvested when ripe, and the female pig is naturally equipped for the task. A compound within the truffle is nearly identical to androstenol, the sex pheromone found in boar saliva, and thus, the sows are rabidly attracted to it. Truffle hogs are still in use today, although many have been replaced by trained truffle dogs, notably the Lagotto Romangnolo breed. The dogs are easier to control in the field and do less damage to the delicate rootlike structure of the truffle (called the mycelia), although traditionalists argue that the truffle hogs find better tasting truffles.
Each original painting is created on stained wood panel using acrylic paint. The limited color palette gives the work a historic feel. The long-limbed characters are crafted using hundreds of hand-torn bits of kraft paper collaged on top of watercolor paper and painted with an acrylic wash. The painting includes details showing how the truffle hunter job changed over time by depicting a dog in the background, the most commonly used animal now to hunt for truffles.
Original SOLD